The Swan New York Loft is a Land Without Magic location on ABC's Once Upon a Time. It first appears in the eleventh episode of the third season.
History
During Second Curse
A year later, it is morning in New York City. Emma wakes up in her new apartment and makes breakfast for herself and Henry. As she serves the hot cocoa, Henry points out that something is missing, and Emma adds cinnamon in their drink. Suddenly, the doorbell rings. Henry asks if someone's coming over, but Emma says no. She answers the door to see a strange man dressed in pirate clothes, and he claims to know her. He tries to convince her that her family is in danger, but Emma says that her family is right here. The stranger says that he can make her remember and attempts to give her true love's kiss, but it doesn't work. She knees him in the groin and ignores his profuse explanations by slamming the door closed, before she resumes her breakfast. ("Going Home")
A woman named Mrs. Cuse looks after Henry while Emma is on a date with Walsh. When Emma returns home, Mrs. Cuse informs her that Henry was quiet tonight, but Henry merely explains that he was concentrating on playing his video game. Emma joins him and as they play, Henry is curious to know how Emma's date went. When he hears that Walsh proposed to Emma, he urges her to accept, since Walsh has proven himself to be serious, and won't leave her like his biological father did. The following morning, Henry is getting ready for school. Emma hands him a permission slip for a field trip and opens a note that Hook gave her which is the address for Neal's apartment in the city. Henry sends a text to Walsh asking him to come over for dinner at eight o'clock and later informs Emma about this.
Emma regains her memories from a
potion
that Hook gives her and the two of them share a drink in her apartment. She learns that her family has been re-cursed by someone powerful. Emma then heads to the rooftop with Walsh, where she rejects his proposal; citing that she has to take care of past business. Walsh reveals knowledge about the memory potion and violently attacks Emma after turning into a
flying monkey
. Emma shoves him off the roof. Over breakfast the next morning, Emma tells Henry that she needs his help with a case. Henry is overjoyed at the prospect of no school and a trip with his mother. When Hook arrives, Emma gives Henry a cover story about him and Emma puts on her
red leather jacket
before the three head to
Storybrooke
.
("New York City Serenade")
Trivia
Props Notes
Set Dressing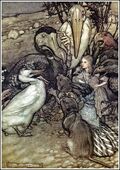 Filming Locations
The scenes in Emma and Henry's apartment were filmed in Gastown's Koret Lofts building[65] on East Cordova Street, Vancouver. These large New York style open loft apartments are characterized by their sandblasted exposed brick, posts, wooden beams and ceilings.
Appearances
Note: "Archive" denotes archive footage.
References
Community content is available under
CC-BY-SA
unless otherwise noted.