Jurassic World: Dominion Dominates Fandom Wikis - The Loop
Play Sound
Once Upon a Time in Wonderland is ABC's Once Upon a Time spin-off series. It was announced as picked up on May 10, 2013.[1] The first episode premiered on October 10, 2013. The series finale aired on April 3, 2014.
Synopsis
In Victorian England, the young and beautiful Alice tells a tale of a strange new land that exists on the other side of a rabbit hole. An invisible cat, a hookah smoking caterpillar and playing cards that talk are just some of the fantastic things she's seen during this impossible adventure. Surely this troubled girl must be insane and her doctors aim to cure her with a treatment that will make her forget everything. Alice seems ready to put it all behind her, especially the painful memory of the genie she fell in love with and lost forever — the handsome and mysterious Cyrus. But deep down Alice knows this world is real and just in the nick of time, the sardonic Knave of Hearts and the irrepressible White Rabbit arrive to save her from a doomed fate. Together, the trio will take a tumble down the rabbit hole to this Wonderland where nothing is impossible.[2]
Story
After the Red Queen seemingly kills her true love, the genie Cyrus, Alice returns to Victorian England and is subsequently committed to an asylum. She is rescued by the Knave of Hearts and the White Rabbit, who informs her that Cyrus is still alive. Journeying once again to Wonderland, Alice embarks on a quest to find her lost love, who is being held captive by the sorcerer Jafar and the Red Queen in their endeavor to change the laws of magic.
Cast
Episodes
Once Upon a Time in Wonderland Episodes
No.
Title
Directed by
Written by
Original air date
U.S. viewers

(million)

1
"Down the Rabbit Hole"
Ralph Hemecker
Edward Kitsis &
Adam Horowitz
Zack Estrin
Jane Espenson
October 10, 2013
5.82[3]
Alice returns home to her father telling her that everyone thought she was dead. Her imaginative stories about a talking White Rabbit and a mystical place called Wonderland end up getting her admitted into an asylum where Dr. Lydgate convinces her to have a procedure that will allow her to forget her pain. Right before the operation is set to take place she is rescued by the Knave of Hearts who takes her to the rabbit who informs her that her true love Cyrus is still alive. As the trio then jumps into the portal returning to Wonderland, Alice sets out on a quest to find him but the villainous Jafar and the Red Queen have other plans for her.
2
"Trust Me"
Romeo Tirone
Rina Mimoun
October 17, 2013
4.53[4]
In Wonderland, Alice concocts a plan to find Cyrus and uses his genie bottle as bait to find out who she's up against and who her real friends are. Meanwhile, the Red Queen and Jafar face off and in flashback, viewers find out how Alice and Cyrus fell in love and how Cyrus ends up in Wonderland.
3
"Forget Me Not"
David Solomon
Richard Hatem
October 24, 2013
4.38[5]
In a flashback, viewers are introduced to Will Scarlet, who turns out to be the nifty Knave of Hearts. Will has joined Robin Hood's Merry Men and convinces them to steal gold from Maleficent's castle before also pilfering an enchanted looking glass for himself that comes with a hefty consequence. Meanwhile, in Wonderland, Cyrus successfully tricks Jafar and the Red Queen into sending a Bandersnatch after Alice who in turn exposes something the White Rabbit has been secretly hiding.
4
"The Serpent"
Ralph Hemecker
Jan Nash
November 7, 2013
3.55[6]
When the Knave's life is in danger, Alice has to make the tough decision on whether to use one of her three precious wishes and what that would mean for her and Cyrus. Her new friendship with Lizard reveals some of the Knave's backstory and Cyrus plots to escape. Meanwhile, Jafar's plan to kill the Knave puts the Red Queen in a difficult position as she grapples with her feelings for him and her desire to get what she wants. In flashback, we explore Jafar's origins and find out what he truly wants from Cyrus.
5
"Heart of Stone"
Paul Edwards
Katie Wech
November 14, 2013
3.73[7]
In a flashback, Will Scarlet and Anastasia jump through the looking glass to enter Wonderland against her mother's wishes, since she disapproves of Will. They both soon realize that life in Wonderland isn't exactly what they had both imagined. After being humiliated while attending a ball at the palace, Ana convinces Will to steal the crown jewels in order to get them out of poverty, but in an instant, Ana is caught red handed by the King who makes her a proposition she can't refuse – to marry him and be his Queen to avoid prosecution. Meanwhile, in current Wonderland, the Red Queen convinces Alice to help her acquire magic dust in exchange for information about Cyrus, who in turn has managed to skillfully escape Jafar's castle leaving the White Rabbit in a compromising situation.
6
"Who's Alice"
Ron Underwood
Jerome Schwartz
November 21, 2013
3.53[8]
Jafar pays a visit to the Asylum and Dr. Lydgate to uncover information about Alice, while in Wonderland, Alice heads to the Black Forest on her quest. Meanwhile, the Knave is awakened by magic with the help of an unlikely ally and he goes in search of Alice only to find her in terrible danger, and Cyrus does his best to evade the Red Queen. In flashback, Alice returns to Victorian England and her father after losing Cyrus.
7
"Bad Blood"
Ciaran Donnelly
Jane Espenson
December 5, 2013
3.24[9]
When Alice discovers that her father is in Wonderland, they begin healing their broken relationship, which leads to her having to make a difficult decision. In flashback, a young Jafar is emotionally distraught after his mother dies and we find out what drove him to become the unforgiving villain he is today.
8
"Home"
Romeo Tirone
Edward Kitsis &
Adam Horowitz
Zack Estrin
December 12, 2013
3.30[10]
In flashback, we learn about Cyrus' origin story while Alice seeks out the White Rabbit for answers involving his actions in Wonderland. Meanwhile, the Red Queen and Jafar's disdain for one another comes to a head, followed by a series of chaotic events. The insurmountable consequence caused by their showdown will put everyone in danger and lead to a drastic change.
9
"Nothing to Fear"
Michael Slovis
Richard Hatem and
Jenn Kao
March 6, 2014
3.27[11]
The Knave is released from the bottle by Lizard and she is given the opportunity to make her dreams come true with three wishes. Cyrus, and a reluctant Alice, partner with the Red Queen to find and rescue the Knave, while the Red Queen is captured by peasants who want payback for her cruel reign. Meanwhile, Jafar has taken over the Red Queen's castle and learns of a fearful creature called the Jabberwocky who he plans to ally himself with.
10
"Dirty Little Secrets"
Alex Zakrzewski
Adam Nussdorf and
Rina Mimoun
March 13, 2014
3.22[12]
In flashback, Cyrus' actions lead to a fateful day that leaves his mother near death, resulting in a decision that comes with a binding price he and his brothers have to pay. Meanwhile, after banding together, Alice, Cyrus, The Knave of Hearts and the Red Queen split up into two groups that leaves the Knave and the Red Queen face to face with the fearful Jabberwocky, and Cyrus' guilt about his past tests his relationship with Alice.
11
"Heart of the Matter"
David Boyd
Jenny Kao and
Katie Wech
March 20, 2014
3.51[13]
Alice and Cyrus discover alarming information involving prisoners Jafar has under his control and changes their priorities. Meanwhile, the Red Queen is in critical danger and no one can help her except the Knave by surrendering information to Jafar that he's been desperately seeking. In flashback, Anastasia is about to marry the King and strikes up a friendship with Cora that directly impacts Will. Cora also confronts Will resulting with him asking her for a shocking demand.
12
"To Catch a Thief"
Billy Gierhart
A. Nussdorf
and J. Schwartz
March 27, 2014
3.35[14]
In flashback, the Knave hunts Alice per Cora's directive and he finds himself striking a deal to get his heart back, while in present day Wonderland, Alice and the Knave's friendship is tested as he does Jafar's bidding and steals from her. Meanwhile, the Jabberwocky attempts to free herself from Jafar's control and Jafar is confronted by his former partner.
13
"And They Lived..."
Kari Skogland
Edward Kitsis &
Adam Horowitz
Zack Estrin
April 4, 2014
3.38[15]
The all-powerful Jafar succeeds in making his father love him and forcing Anastasia into thinking she loves him. After Alice, Amara and Cyrus escape, Jafar imprisons the Jabberwocky and calls upon an army of dead soldiers to do his bidding. Meanwhile, Alice and the White Rabbit raise their own army to fight Jafar for the realm and a final confrontation between Alice and Jafar takes place at the Well of Wonders.
Ratings
Once Upon a Time in Wonderland Ratings
Once Upon a Time in Wonderland ratings: Total viewers per episode (in millions)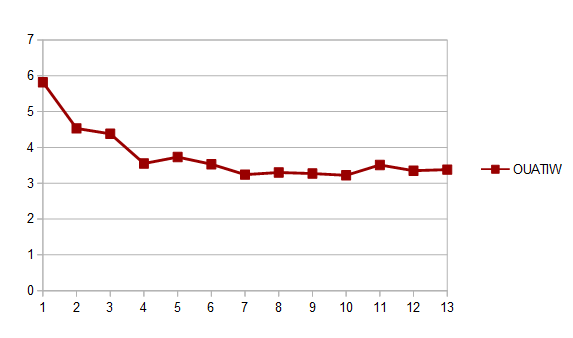 (These numbers are the total viewers of the first airing on ABC in the USA on Thursdays 08:00 pm.)
Once Upon a Time in Wonderland ratings: 18-49 Demo numbers per episode
(These numbers are the 18-49 Demo numbers of the first airing on ABC in the USA on Thursdays 08:00 pm. )
Only the final ratings are added in these tables. The early ratings are not used.
The series high is "Down the Rabbit Hole", which was watched by 5.82 million viewers and earned a 1.7 demo rating.
The series low is "Dirty Little Secrets", which was watched by 3.22 million viewers and earned a 0.8 demo rating.
Videos
Trivia
External links
References