Once Upon a Time Volume II[1] is a book featured on ABC's Once Upon a Time. It first appears in the twenty-second episode of the fifth season.
History
After Third Curse
During Henry and Violet's quest to erase magic for good, they follow a clue from Neal's journal to the the New York Public Library, where they find innumerable storybooks. Henry notices each of them look the same as his own storybook and opens once called Once Upon a Time Volume II, which contains stories different from his. After looking through all of the storybooks, he and Violet do not find anything in them about how to destroy magic. ("Only You")
David tries to maintain order by directing the Land of Untold Stories residents to food and shelter in the diner and inn. This causes unrest among the newcomers until Regina welcomes them to Storybrooke. Holding the storybook, she tells them to not be fearful of their stories playing out because she will brave the unknown with them. Henry then attempts to use the book to discover a stranger's name, however, the man tells him that he isn't important enough to have his own story. ("A Bitter Draught")
As Emma, Henry and Hook attempt to find Ashley, Emma mentions her knack for finding people by trying to decipher their stories. Henry realizes the storybook can tell them how Ashley's stepsister Clorinda's story was supposed to end, and this will reveal Ashley's location. They manage to track down Ashley and Clorinda at the Storybrooke Pumpkin Farm. ("The Other Shoe")
Trivia
On-Screen Notes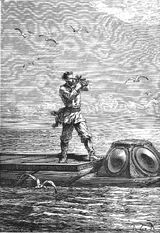 ORIGINAL VERSION




SHOW VERSION
(differences are set in

fuchsia

)

Paul Bunyan was a hero of North America's lumberjacks,
the workers who cut down trees. He was known for his
strength, speed and skill. Tradition says he
P[image ends]




cleared forests from the northeastern United States
to the Pacific Ocean.
Many years ago, Paul Bunyan was born in the
northeastern American state of Maine. His mother and father were shocked
when they first saw the boy. Paul was so
large at birth that five large birds had to carry him to his
parents. When the boy was only a few weeks old, he
weighed more than forty-five kilograms.
cleared forests f[image ends]


way

to the Paci[image ends]


Legend says that

[image ends]


northeastern stat

[image ends]
when they first l[image ends]


big

at birth that [image ends]
parents. When t[image ends]
weighed more tha[image ends]
As a child, Paul was always
hungry. His parents needed tens cows
to supply milk for his meals. Before
long, he ate fifty eggs and ten containers of potatoes
every day.
Young Paul grew so big that his parents
did not know what to do with him.
Once, Paul rolled over so much in his sleep that he
caused an earthquake.

His appetite match

[image ends]
hungry. His pare[image ends]
to supply

enough

[image ends]
long, he ate fifty e[image ends]
every

single

day.
Young Paul grew [image ends]
did not know wha[image ends]


time that

Paul rolle[image ends]
caused an earthqua[image ends]
Appearances
References
Community content is available under
CC-BY-SA
unless otherwise noted.