Jafar's Creature Book is a book featured on ABC's Once Upon a Time in Wonderland. It appears in the third episode of the spin-off.
History
After First Curse
In Jafar's tower, the Red Queen and Jafar are dining at a table, with Alice's lover Cyrus as their prisoner. The queen and Jafar intend to force Alice to make one of her wishes and ask Jafar's henchman Orang to bring them the book. Orang brings the large, old book over to the dinner table and the queen starts looking through it, while Cyrus worries about what they're going to do to Alice. The queen flips through the book and begins to read out loud names of various creatures to send after Alice so she will be forced to make a wish. First she suggests the Mome Rath, which is said to have a mouth so full of fangs that it's like being pressed together by two beds of nails; however, Jafar reminds her that they don't want to kill Alice. The Red Queen believes that fear of losing Cyrus is the only thing that will make Alice make a wish. She then suggests the sarlacc, a creature capable of digesting a person over a millennia ("plenty of time to make a wish"), but Jafar asks her to keep going. Finally, the queen suggests the Bandersnatch, a fearsome creature which almost killed Alice when she was a child. Seeing Cyrus' expression twists into worry at the mention of the beast, the two of them settle for the Bandersnatch. ("Forget Me Not")
Trivia
On-Screen Notes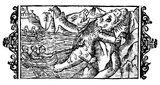 Appearances
References
↑ DE PARTIBUS ORATIONIS ARS MINOR. Logos. Retrieved on February 26, 2019.
↑ Image:Draw a Transmutation Circle Intro.jpg. wikiHow. Retrieved on February 26, 2019.
↑ Buckland, Della R (September 29, 2017). What Is a Transmutation Circle?. eHow.
↑ 5.0 5.1 5.2 5.3 5.4 File:W103KeepGoingFlipped.png (flipped image)
File:W103KeepGoing.png (original image)
↑ 7.0 7.1 7.2 Alchemical symbolism fonts. Alchemy Web Site. Retrieved on February 26, 2019.
↑ The Legendary Emerald Tablet. Ancient Origins (August 10, 2014).
↑ The Archpoet (The Oxford Book of Medieval Latin Verse, F.J.E. Raby, ed., 1959). Prof. Rand Johnson, Western Michigan University. Retrieved on February 26, 2019.
Community content is available under
CC-BY-SA
unless otherwise noted.